Famous Opening Lines Masalafied
Call me Ishan. Seriously, SMS me yaar!
It was prem at first sight. The moment Yogesh saw the Guru, he fell in love with him.
A screaming comes across the busti.
The sky above the port was the color of television, tuned to Doordarshan.
As Gadhadhar Samosa awoke one morning from uneasy dreams he found himself transformed in his bed into the CM.
Many years later, as he faced the firing squad, General Aurangazeb Butt was to remember that distant afternoon when his father took him to discover falooda.
I am an invisible Dalit.
- February 3, 2013 9:39 AM // Permalink // Books
Patel Pizza
Seen: on a recent trip to Carlsbad, CA.
What: a local pizzeria, Paradise Pizza, with specialty toppings. There's the "Gentle Italian", "Royal Hawaiian", "Zen" and last but not least, the "Patel".
I suppose a case could be made for onions & jalapenos as some kind of culinary connection? We ordered one and it was good if a mite on the thin side. We were also somewhat famished, so no pictures of what we ate. Here's another one of their other offerings from Yelp:
- July 14, 2012 9:31 AM // Permalink // Food
My Theory On Why Indian Americans Excel At Spelling Bees
The pattern has become all too familiar. This time of the year, every year, there's a new spelling bee champion. Invariably, he/she is Indian American. Commentary abounds on the preponderance of desis in this event. Someone points out that most of the finalists are also Indian American. Theories like first generation immigrant drive and strong family values are trotted out.
Dhingra is heading up an exhibition at the Smithsonian next year on Indian-Americans that will try to explain the phenomenon. He says spelling bees offer a kind of perfect mix of everything that resonates deeply with Indian-Americans: the competition; the focus on academic achievement; the discipline it takes; and the way a tightknit family can team up to train together.
Me? I think there's a simpler explanation. You see, us desis are born with an innate advantage. As kids, one of the first things we have to learn is how to write our names in English. That's one of the basic requirements of entry into a private kindergarten school, for example. I don't know about you but I think learning to spell a name like Ranjana Kuruppuarachchi, just to pull something out of thin air, would be excellent preparation for xanthosis, vivisepulture or succedaneum five or six years down the line.
Ah, but what about those parents that have already anglicized our names in anticipation? Well, at some point early on, we have to spell their names too. And our grandparents, uncles and aunties. There's just no getting away from it. My two rupees. Told you it was simple!
- June 2, 2012 10:01 PM // Permalink // Diaspora
Paisa Proselytization
He is dressed like Crocodile Dundee sans massive knife. He sees us maneuvering into the just vacated table in front of the Starbucks at the crowded food court.
"Punjabi?" he asks.
"Pardon?" I ask trying to be polite while nudging Virj into a chair and, at the same time, whipping out some wipes to clean the spilled Panda Express noodles from the previous occupants.
"What do you speak? Punjabi or Filipino?"
I can imagine us being mistaken for the former. If you tie Virj's hair with a handkerchief, he can easily pass for a Sikh boy. The latter however leaves me flabbergasted. How on earth do we remotely look Pinoy?
"No," I say. "We speak Bengali."
"Hold on, I think I might have that in my belt."
He fishes around in his pockets and pulls out a couple of shiny disks.
"Here, have these."
Before I can say anything more, he puts them on the table and is heading towards a Latin couple. Virj scoops up three of the coins, leaving one for me:
"How will you spend your eternal life?"
Because he's gone, I can't tell him the irony in all of this. In the middle of a suburban California strip mall, a stranger has given me a couple of Bengali inscribed coins on Poila Baishaki.
That's the Bengali New Year.
Shubho nobo borsho (an auspicious New Year) to you too!

- April 15, 2012 9:53 PM // Permalink // Bangla , Bay Area
White Tiger
There once was a driver called Adiga
who went into a desi bodega.
The choices were stark - the light and the dark
since inside was a cooped up white tiger.
- February 28, 2012 8:36 PM // Permalink // Books
A Lin-erick
There once was a player named Lin
who was cut from many a team
the Knicks gave him a start
and he dunked into our heart
leaving egg on the Warrior's chin

Thank you, I'll be here all week.

- February 22, 2012 2:46 AM // Permalink // Sports
YBCA Exhibition: New Contemporary Art In India
The Asian Art Museum's Maharaja exhibit in San Francisco isn't the only Indian exhibit in town. Running through Jan 29th, 2012, the Yerba Buena Center for the Arts also has Matter Within - New Contemporary Art of India. Owing to Shari's stint at YBCA in the earlier part of this millennium, we still get the occasional invite and felt we couldn't pass this one up. I am hardly an art critic, but took advantage of YBCA's liberal attitude towards photography in the gallery (all ok as long as no flash). Here are the results.

Outside YBCA

And inside
Continue reading "YBCA Exhibition: New Contemporary Art In India"
- December 30, 2011 1:43 AM // Permalink // Bay Area , India
Celebrating 11-11-11 11:11:11
So fitting. Has to be played eleven times of course.

- November 10, 2011 11:34 AM // Permalink // Music
Last Walk Around Mirror Lake
Last Walk Around Mirror Lake - Boom Bip (Boards of Canada Remix) from FroschYankee on Vimeo.
Music is a Boards of Canada remix of Boom Bip's "Last Walk Around Mirror Lake". Footage is repurposed from a film called "Adrenaline Rush". Great marriage of music and visuals.

- October 18, 2011 4:27 PM // Permalink // General
Das Racist And Other Thoughts
"Michael Jackson. A Million Dollars." I just cannot get this line out of my head! Two out of three in Das Racist are desi brothas who aren't afraid to let their freak flags (and flab) fly in the video. Nicely done.
The album is a grower as well and features, yes, yet another bhangra tribute ("Punjabi Song"):
While bhangra/rap fusions are fairly common and this one is somewhat tongue-in-cheek for a change, I always get more excited, perhaps parochially so, when I hear hi tech bengali experimentation. So, I'll end this post with an excerpt from "Dushto Meyra" by State of Bengal. It's drum and bass and very different from the wall of sample sound approach of Das Racist, but hey, goes with the general theme:
- September 20, 2011 1:04 PM // Permalink // Music
A History of the Wah Wah Pedal
Cry Baby: The Pedal That Rocks The World from Dunlop on Vimeo.
Sure, it was commissioned by the company but this is more than a documentary for gearheads. It's also a paean to all those Electrical Engineers who were sucked into the profession because of their love of audio. The prospect of spending all those hours in front of oscillators, resistors, capacitors, soldering irons and breadboards is suddenly a lot less painful if the end result is revolutionary as this.

- June 15, 2011 10:14 PM // Permalink // Music
Indo-Indie Roundup
Catching up on some of the more notable Indo-Indie multiplex releases over the past couple of years.
Manorama, Six Feet Under - (Netflix DVD) set in a remote Rajasthan town, this noir features Abhay Deol as an author struggling with writer's block when he's drawn into a spying assignment which, as you'd expect, leads to a murder he's compelled to solve. Really enjoyed the denouement on this one and the sparse, arid landscape lends it a very different feel. Yes, there's a debt to Chinatown, but it's a homage, not a blatant copy.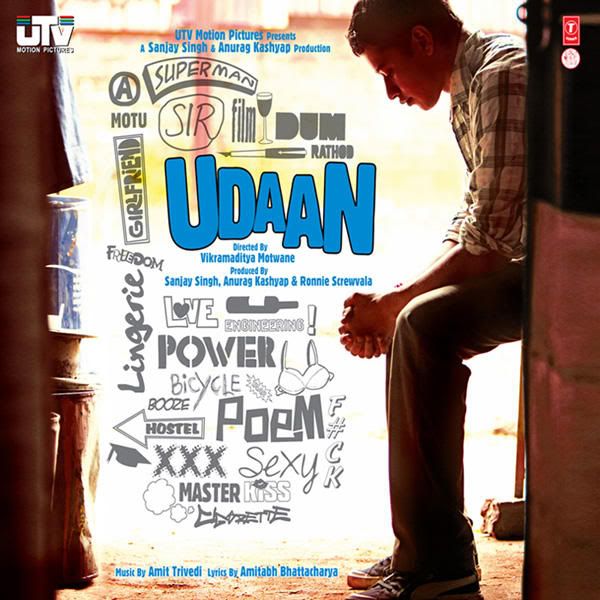 Udaan - (Netflix Streaming) I find Indian films are at their best when they look into small towns and the lives of quiet desperation therein. A little gem, Udaan deals with the return of a 16 year old boy, rusticated from his Simla boarding school, to his father's household in Jamshedpur. We learn his father is a strict disciplinarian, his mother has long passed away and he has a kid brother he barely knows. And yes, his father regards his return as a major wrench in the works. The subsequent conflicts never feel melodramatic and the characters are all utterly grounded in reality. The ending stays with you long after the film is over.
Peepli Live - (Netflix Streaming) dark, dark, absurd and dusty, "Peepli Live" is the film Ram Gopal Verma's "Rann" should have been. Anusha Rizvi's script takes the decision of an impoverished farmer to commit suicide as a starting point and uses it to viciously skewer the news media, the political system and just about anything else in between. The take no prisoners style isn't for everyone but for those of you who like their films to come with a heavy dose of Catch-22, Network and No Man's Land, this is it.
Road, Movie - (Netflix Streaming) describing Dev Benegal's film ("Vishnu, bored son of Hair oil maker in smalltown Rajasthan decides to drive dilapidated truck doubling as mobile movie theater across desert tracks to a museum") makes it sound like a road version of "Cinema Paradiso" by way of Bollywood. It actually isn't. Even though these are Bollywood clips being shown by the theater-on-wheels, the international crew behind the film, the sparse locations and the subject matter lends "Road, Movie" quite an otherworldy feel. And yes, Abhay Deol plays the titular character in yet another film set in the Rajasthani desert. Must like sand a lot.
- March 27, 2011 8:46 PM // Permalink // Bollywood , Film
Extra Contagious — My Hollywood Experience
Crossposted on Sharidelic.
A couple of weeks ago, while idly facebooking away, a shared link led to me an article talking up a Hollywood production, "Contagion", starring Matt Damon, being shot in San Francisco. And yes, they were looking for extras. In general, I don't really do that stuff because my agent doesn't think it's particularly worthwhile. However, I was curious about this one. First, it was a big budget shoot. Second, it was directed by Steven Soderbergh. Wouldn't look too bad on my resume at all! So, on a fine sunny Sunday morning, I went up to San Francisco, stood in the long line outside the YMCA at the Embarcadero and submitted by headshot. I saw some recognizable faces - apparently the whole town had turned up to try their luck! I also overheard that a couple of thousand people had already submitted their photos the previous day and they were expecting another couple thousand that day. Daunting but that's showbiz, isn't it?
A week went by and I heard nothing. Then, lo and behold, the phone rang and it was the Contagion casting agent. I'd been selected for the role of an office worker at the FBI building in SF for the coming Friday. I was also told I'd be getting another call later in the week with more details. That call directed me to a hotline number I was supposed to ring the night before the shoot for directions/wardrobe details. Ringing the hotline yielded a recorded message asking us to bring a couple of sets of clothes to the shoot. Resisting the temptation to lug half my wardrobe to the set, I decided to stick to the basics because from my experience, that's usually sufficient.
My actual reporting time was 8:30 in the morning. Early but miles better than something like 5 in the am. Phew! I took BART to the Civic Center stop and walked to my assigned location, the Bill Graham Civic Auditorium. Getting closer to the building, I saw Grove Street had entirely been blocked off and people were unloading equipment from trucks. They were putting up big yellow signs that said "Vaccination Center" on the top followed by instructions in English, Chinese, Arabic and another language I couldn't recognize. As I wandered confused through this activity, a crew member was kind enough to point me to the entrance of the extras holding area. Inside, I checked in, was handed a form to fill and directed to inside to the huge auditorium where the rest of the cast were waiting. The space was full of small tables and chairs occupied by well-dressed men and women, mostly attired in business suits, working on filling out their forms. One side had been converted into a makeup area with ten or so dressing bays lined with chairs and surround lights and being manned by makeup artists. In another corner, there was the wardrobe area with clothes racks lined up against the wall. Actors stood in line to be inspected by two ladies. Most folks carried luggage filled with clothes or garment bags of business suits. I realized that the initial message about the FBI building and business attire must have created some confusion. Finally, there were two tables with breakfast food, snacks and beverage in the center of the room.
The form we had to fill out was quite elaborate and I could see enlarged photocopies posted around the room for reference. A woman came around the tables checking everyone's form along with IDs and signing them off. She was quite particular about mine. I ended up having to call home several times to get information. After all this, one of the makeup folks called me to do my hair. She spent a lot of time straightening it out but took off what little makeup I had on. Apparently, we were all supposed to look tired and somewhat ill, like, in their words, "after being stranded in the airport for three days." I suppose extras in a film entitled "Contagion" aren't supposed to resemble partygoers in Club Med, more like the poor hordes stranded in European airports over Christmas! I didn't understand, however, why then would they spend so much time on getting my hair to look so good?
My actual wardrobe check was quick as I had the right outfit on - my experience of dressing for auditions proved to be useful. Each of us extras were given different types of masks to cover our faces. I appreciated the depth of thinking by wardrobe department here. After all, if this was supposed to be an epidemic, many would be wearing makeshift masks of various types. They shouldn't look alike.
We sat around chatting for the next couple of hours while we waited to be called in. Ages and background varied widely from opera singers, SAG affiliated actors to kids, moms, tourists, retirees and regular office workers who had taken the day off to be a part of this experience. Some actually came for the free food and the paycheck! There were doctors and medical professionals in the mix as well as SF policemen and members of the National Guard, here to lend authenticity to the proceedings. I even spoke to a systems engineer who was very excited to have been selected. It felt more like a big block party than work!
We were finally called for the shoot and asked to line up in front of the building. The set was ready by then with more signs on the building and border patrol trucks parked all over. And we had an audience - passers by had gathered around the cordoned area to watch. We were given fake vaccination cards to hold. We were also told that Jude Law would be on the set, so we should control our urges to throw ourselves at him .. er .. not get in the way or take pictures. Then, a couple of assistant casting directors came by, picking some of us out of the line to appear in a special scene. A mother and her young daughter standing in front of me were asked to step aside. Next, an African American girl a few feet behind me. Just when I started wondering if I would be that lucky, I was asked to join them as well! It turned out seven of us had been selected for a special scene with Jude Law. In addition to the mother/daughter and the girl, we also had a mother/son, myself and a middle aged Asian lady. SF diversity represent!
What followed was a series of rehearsals and practice takes to determine the exact sequence. We had to walk through the park situated across the auditorium while Mr. Law passed us on his way to take some photos of the building. I believe he's playing a journalist. The director, Steven Soderbergh, along with the rest of his crew were present at the location, shooting from a distance. There was a small black tent for the monitors as well as editing equipment but the rest of the folks stood around in the sun in between takes. All of the actors waited near a snack area that had been set up next to the border patrol trucks that provided some shade. Jude Law stood a few feet from us, sipping some water and waiting. It was pretty amazing to see the level of professionalism on the set, nothing like the stories of high maintenance Hollywood and Bollywood divas and their entourages.
While waiting, the seven of us started chatting in a bid to take our minds off Jude The Not-So-Obscure standing close to us. "Where's the director?", one of the mothers asked. When we pointed Steven out to her she said, "oh, he was just talking to my son a little while ago, showing us pictures of his kids on his phone!"
The way the scene ended up being structured, I had the privilege of walking past Jude Law in one of the shots. If it makes it through edit, I hope to see myself on the big screen! A couple more takes and it was over. We were asked to go back inside the building and wait. In a while, we were called back again, this time for a group shot of all us walking out of the building. And that was it for us. We were given the option of staying for lunch or leaving early. I was starving by then, so I decided to stay for the elaborate spread. By the time I left, about 6 hours from when I arrived, the whole set was wrapped up and the crew had left for the next San Francisco location for another scene.
PS: A special thanks to the set crew for letting me take pictures after the shooting was over!

Shari Acharya - March 6, 2011 7:40 PM // Permalink // Bay Area , Film
Jis Lahore
Naatak's latest production. Go here for details.
Given that this is a production in Silicon Valley, I would be remiss if I didn't report on the presence of the:
Couldn't find the YouTube channel, Ustream type live stream, Foursquare checkin or the rockin' Groupon deal on tickets. They must be around somewhere :-)

- February 24, 2011 9:59 PM // Permalink // Bay Area , Theater
Indian Grocery Store Security
Here's a snapshot of the security display at the local desi grocery store:
The display collates the views from the eight security cameras mounted at various points throughout the store. It's not a particularly big establishment, so there must be some very cool stuff (or particularly recidivist patrons) to warrant this level of Big Brother Bada Bhai attention. The naming of the subdisplays provides some clues in this respect. First, we have the Front Counter and Aisle Cams. Self explanatory. But then we have the Lota Cam and the plot thickens. In South Asian parlance, a lota is:
commonly used to store or transfer small amounts of liquids like milk or water. In the Indian sub-continent, where cleaning with water is the usual method for maintaining personal hygiene after defecation or urination, a lota with a spout is widely used as a container for this purpose.
Clearly, the owners feel the need to watch over their lota stock very carefully indeed, particularly for those fresh off the boat fellows so much at sea in the American bathroom, yet too depleted fundwise to invest in something that is so common at home. I wonder how many shoplifters have been caught trying to leave the store after sheepishly concealing a lota somewhere on their person.
Next we arrive at the pickle cam. Again, it must say something about this store's pickle collection that they feel the need to watch it so carefully. It is indeed very extensive but again, I have a hard time believing would be thieves trying to slip pickle bottles up their sleeves or down elsewhere. It takes all types, I suppose.
Pooja cam and Pooja cam2 are nods towards the store's collection of puja supplies which are indeed quite extensive and expensive. Same is true for the Divya Cam. The Lamb Cam leaves me a little befuddled however as I am sure they don't have any killer sheep penned up just waiting to escape thus necessitating round the clock surveillance. Rather, it's the frozen foods section. The meat must be amazing indeed to be worth all this security. A pity since I avoid red meat these days.

- January 22, 2011 6:40 PM // Permalink // Humour
Grateful Dead Videogame
<
The Wall Street Journal reports on a new online video game being developed about the Grateful Dead:
The developer, Asheville, N.C., based Curious Sense has permission to use any material from the band's deep archives, which includes three decades' worth of film and video and thousands of live concert recordings. For instance, Curious Sense founder Adam Blumenthal says he's itching to repurpose an animated sequence from 1977's "Grateful Dead Movie," featuring a cosmic pinball game. His company can also tap the Dead's vivid album cover art, as well images of the band members.

The game project is in its earliest stages, with developers currently mapping out which elements of the Dead universe to incorporate. Blumenthal says some songs are particularly conducive to gaming because of their narratives ("Terrapin Station"), imagery ("Dark Star") or characters ("Cosmic Charlie"). Such elements will be molded around templates common to casual games, such as hidden-object hunts and so-called "tower defense" games. "Think of the song 'Samson and Delilah," Blumenthal says. "Maybe we can make that into an Angry Birds kind of game?"
And more about Adam:
Not surprisingly, Blumenthal is a deadhead—he drew the name of his company from a line in the Dead song "St. Stephen." It's not an overstatement to say he's been working toward this job his whole career. In the early 1990s, while he was a student at Ithaca College, he pitched his services to Phish, helping the young jam band dip into the burgeoning field of interactive media.
I actually know Adam from his days at Ithaca College. He and I met while enrolled in the first of several multimedia courses we took at the Communications Department at Cornell. We ended up working together on our course projects and I am particularly proud of our final collaboration - an interactive installation on the art of Chuck Jones, creator of Bugs Bunny, Road Runner, Pepe Le Pew and Daffy Duck amongst others. This was, sadly, just before the meteoric ascent of the World Wide Web, so the project, written in the then hot Supercard authoring system on an Apple Quadra, has now ascended to the Great Bit Bucket in the sky. Anyway, it was obvious even back then that Adam was someone special and I couldn't be happier at this amazing opportunity he's created for himself. Congratulations!
- January 13, 2011 10:49 PM // Permalink // Music , Technology
Gun Violence
This cartoon says it all, really: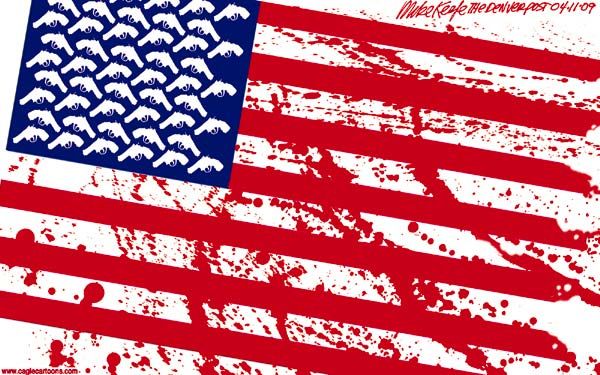 Gun Violence by Mike Keefe, Denver Post, Buy this cartoon
- January 9, 2011 2:35 PM // Permalink // Politics
Guru, Naan, Pundit, Curry, Bollywood
Here's a random collection of Indian-esque words (Guru, naan, curry, yoga, India, pundit, Bollywood) plotted on Google's NGram Viewer. Clicking on the image below will take you to an enlarged version.
The frequency sizes are too small for deducing meaningful trends. 0.00080%? However, it is somewhat interesting to observe the rise and fall of "India". Perhaps obsession peaked during Victorian times? More likely, it's a function of the types of books in Google's digitized database. The relentless rise of "guru" and "yoga", particularly from the '60s onwards, perhaps require less explanation.
- January 2, 2011 12:06 AM // Permalink // Technology